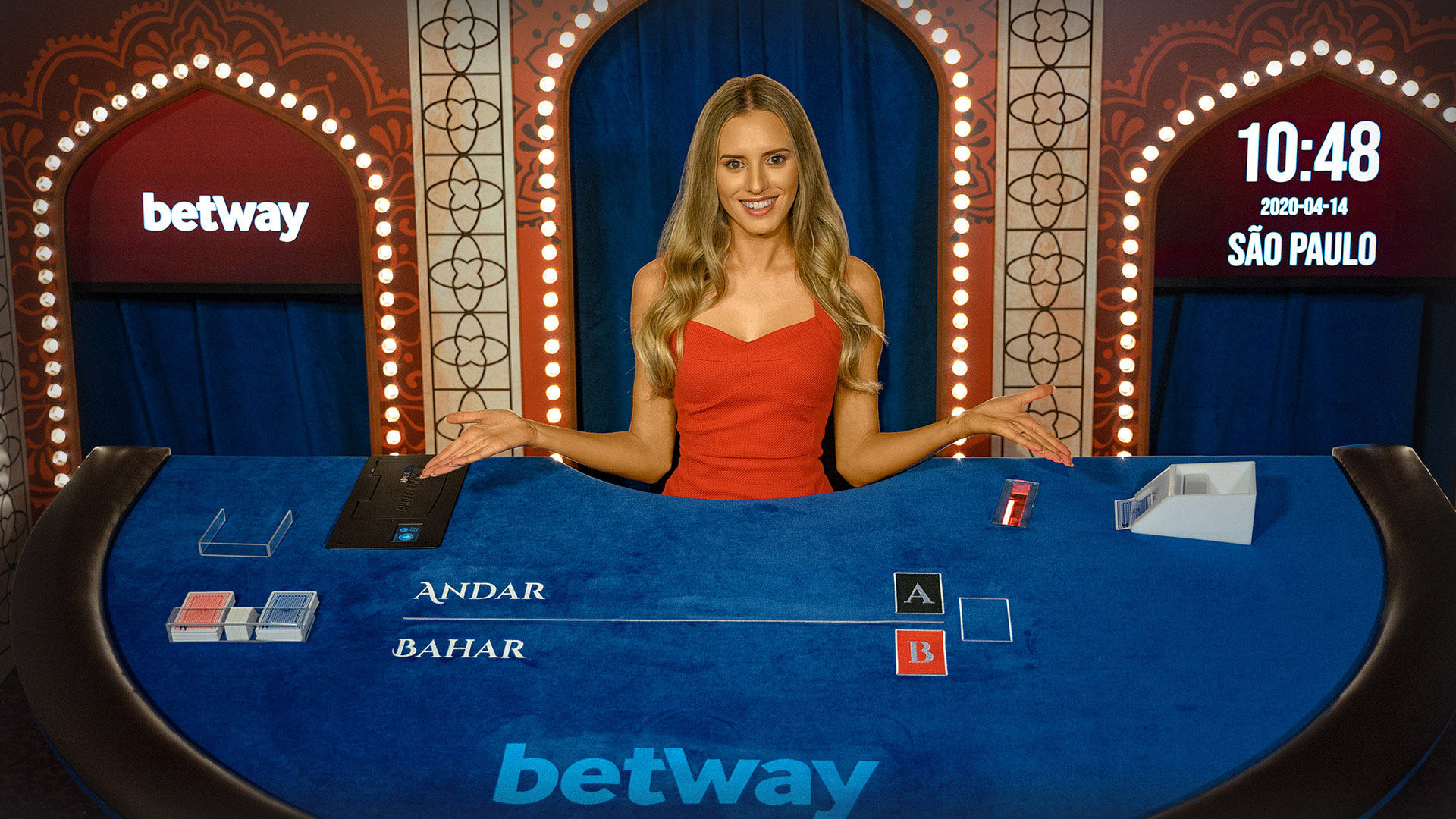 Andar Bahar
Andar Bahar has arrived at Betway, with India's favourite card game available to play today at the Live Casino.
We've set up an exclusive table for Betway customers to play Andar Bahar online and with real hosts.
The game is also known as Maang Patta or Katti, depending on where you are from in India. But wherever you're from, you can now play Andar Bahar online with us.
We'll discuss all these sections, so keep reading for everything you need to know about playing Andar Bahar online.
What is Andar Bahar?
If you're from India, you've probably grown up playing the Andar Bahar game.
The game, which originated in the state of Karnataka in India, is more than 100 years old and a very traditional feature of festival celebrations and family life.
Andar Bahar would often be played by households during festivals such as Holi and Diwali.
Now, with Betway, you can play your favourite card game online for the chance to win money at the same time.
The name itself "Andar Bahar" is from the two Hindi words for Inside and Outside, denoting the way cards are dealt by the dealer.
It is called Andar Bahar in Northern India, or you might know it as Maang Patta in the south or Katti if you're from Karnataka.
The popularity of Andar Bahar across India meant it soon became a staple at some of the county's most famous land-based casinos.
You can now see Andar Bahar alongside games like Blackjack and Roulette.
How to Play Andar Bahar
Part of the reason Andar Bahar is so popular is because it is so easy to play. In this section we'll explain how to play Andar Bahar and you'll be an expert in no time.
Your Aim: All you need to do is pick which side – Andar or Bahar – you think will have the card that matches the joker card.
Then you bet on which side you think the matching card will appear.
Here's what happens:
A first card is dealt, that is the joker card (eg 9 Hearts).
Cards are dealt onto the Andar and Bahar sides, alternating between both sides.
The game is over when a card is dealt of the same number as the joker (eg 9 Diamonds).
The main game is played with one deck of 52 cards per round.
You have a 50/50 chance to win and the odds are the same for each side, paid at 1.9x your bet.
You can bet from as little as ₹50 all the way up to ₹5000 so there is the chance for big wins.
If the joker card's suit is black then the next card will be dealt to Andar side and if card's suit is red it will be dealt to the Bahar side.
How to Place a Bet
So now you know how to play Andar Bahar online, your next step is to make a bet.
Simply click on which side you want to bet on: Andar or Bahar. Once you have selected an amount, you will also be able to see how much you could win.
The dealer will deal the cards and then the excitement begins.
If you win, you will be credited instantly.
When the next round begins, your options will be reset.
Will you choose the same options as last time? Or pick new options for the next round? The choice is yours.
Either way, the next hand is only a few seconds away.
Betway's Andar Bahar Online Experience
Betway has created an exclusive Andar Bahar live game for our players to enjoy.
With our new Andar Bahar online game, it's a chance for you to turn the fun into some big wins.
You'll get to experience Andar Bahar live, with real dealers, for that feeling of being at a casino but from the convenience of your home or wherever you choose to play.
Our tables will also be available 24/7 so you can play whenever you desire.
Now you don't need to find someone to play with and can fit some Andar Bahar into your daily life and play when it's convenient for you.
To give you an even more detailed experience, you'll also be able to see key stats such as the past 50 game results, and the percent win of Andar and Bahar.
Our Andar Bahar live experience is both fun and fast: the next hand is only moments away from being dealt, with your next chance to win.
Maang Patta, Katti, or Andar Bahar?
Although it most commonly known as Andar Bahar, the popular game goes by various names around India.
As we mentioned, it is often referred to as Maang Patta or Katti around the southern regions of India.
The three games are mostly the same, however there are some differences between Maang Patta, Katti, and Andar Bahar.
For example, some versions of Maang Patta and Katti allow players to pick their own joker card.
So, Betway's version is based on the standard Andar Bahar game where you simply match the value of the joker card dealt by the dealer.
To make sure you know the rules to our Andar Bahar live game, check out the How to Play Andar Bahar section above.
Andar Bahar Strategy
When playing Andar Bahar online, every player has their own strategy.
It is a straightforward game so make sure you know the basics: you have a 50/50 chance to win and the odds are the same for each side, paid at 1.9x your bet.
As the game is played with one deck of 52 cards per round, it is important to remember that there are only three other cards that could be matched.
But it could be the first card dealt, or it could be the last card in the deck.
Sidebets are another way to potentially increase your wins. Check the section below for more information about our sidebets.
Andar Bahar Sidebets
So you've mastered the basics of playing Andar Bahar online? Why not try some of the sidebets?
The sidebets of our Andar Bahar live game are equally as simple as the main game itself.
These bets will give you a chance to get extra wins and add some extra excitement to your Andar Bahar online experience.
Please note; our Andar Bahar live sidebets will only be available to use from July 2020.
*How many cards will be dealt
You'll be able to bet on five-card blocks like 1-5, 6-10 all the way up to 41+.
Each five-card block will have odds based around which are more likely.
You could get up to 120x your bet if there more than 41 cards dealt and you picked that sidebet.
*What value and colour the joker card will be
Before the joker card is dealt you'll have the chance to bet on what it might be:
Red or Black – odds: 1.9x your stake
Spades, Diamonds, Hearts, or Clubs – odds: 3.8x your stake
*What value the joker card will be
You can also bet on what number the joker card might be. You'll have three options to choose from:
2-7 – odds: 2x your stake
8 – odds: 12x your stake
9-Ace (Aces are high in Andar Bahar) – odds: 2x your stake
Common Andar Bahar Terms
If you're playing Andar Bahar online for the first time, you should know what some of the most common terms are.
Andar – Translates to 'inside'. It is the side along the top of the table.
Bahar – Translates to 'outside'. The side along the bottom of the table.
Maang Patta – Another name for Andar Bahar, used in Southern India.
Katti – Another name for Andar Bahar, used in the state of Karnataka.
Joker – The card that is dealt first and the one that must be matched to win.
Sidebets – These are bets you can make that don't involve betting on the main game.
Influence on Culture
Being such an iconic part of Indian culture, the game has influenced movies, books and more.
There is. of course, the 1984 Hindi crime film, Andar Baahar, starring Anil Kapoor and Jackie Shroff.
More recently there was Andar Bahar – a 2013 film starring Shiva Rajkumar.
And now, leading Bollywood actress Nargis Fakhri has partnered with Betway and our new Andar Bahar online game.
Betway is proud to be associated with Nargis Fakhri, star of such films as Hollywood hit, Spy, and musical romantic drama, Rockstar.
Betway Bonuses
If you're ready to start playing Andar Bahar online, then make sure you take advantage of Betway's Welcome Bonus.
You'll get a 100% Match Deposit Bonus on your first deposit, worth up to ₹2500.
That means, whatever your first deposit is, we'll double it for free.
So you could get up to an extra ₹2500 on top of your deposit. And with Bank Transfer, Net Banking, VISA, Skrill, NETELLER, and more – it's easier than ever to make deposits.
You can take all of your Welcome Bonus to the Andar Bahar live table or use it however you please.
Plus, we offer exclusive Daily Deals that can also add a boost to your deposit.
And there are always regular promotions and competitions with big prizes to be won.
You'll also be able to earn Loyalty Points. When you've collected enough points, you'll be able to swap them for Free Bets and Bonuses.
Sign up at Betway to get all these great bonuses and start playing Andar Bahar live.
More Live Casino Games at Betway
If you liked Andar Bahar you should try some of Betway's other live casino games.
Why not try Live Baccarat, Live Roulette, Football Studio, Crazy Time, Satta Matka,
Teen Patti and Dragon Tiger Live.
Much like our Andar Bahar live game, these three have a similar style. You have two sides to choose from and you bet on the side you think will have the winning card.
Or be sure to check out our Bollywood Blackjack and Bollywood Roulette tables. They're classic casino tables with a special Indian flair.
The Betway Live Casino is yours to explore.
There's also a world of sports betting at Betway Sports, where you can try our top choices such as international cricket betting, and IPL betting.
Or there are other sports betting options from across the globe, like Premier League football, NBA basketball, horse racing and more.
Alerts for Great Offers: Betway App and Telegram
Don't want to miss out on the latest offers?
Betway has now got an app that allows you to get alerts whenever you receive a new offer.
Using the Betway app will also make your Andar Bahar online playing experience even simpler.
You can be at the table within a matter of clicks – and then ready to play.
Our app is available on Android and Apple devices, so you can play wherever you are, and whenever you want, from the convenience of your phone.
You can also follow us on Telegram for the latest offers, sports boosts, updates, quizzes and more.
Being Responsible and Managing Your Gambling
Playing Andar Bahar online should always be a fun experience.
So it is important to take regular breaks and keep your spending under control.
To help you do this, Betway allows you to set Session Reminders so you can keep track of how long you have been playing for.
You can also set deposit limits for daily, weekly, and monthly periods.
These put you in control of how much you want to spend.
You can find both these helpful tools, plus more advice, at our Responsible Gambling page.
Most Popular Games
More Casino Favourites
Online Casino | Live Casino | Online Slots | Roulette | Blackjack


Andar Bahar
Play Andar Bahar Game Online