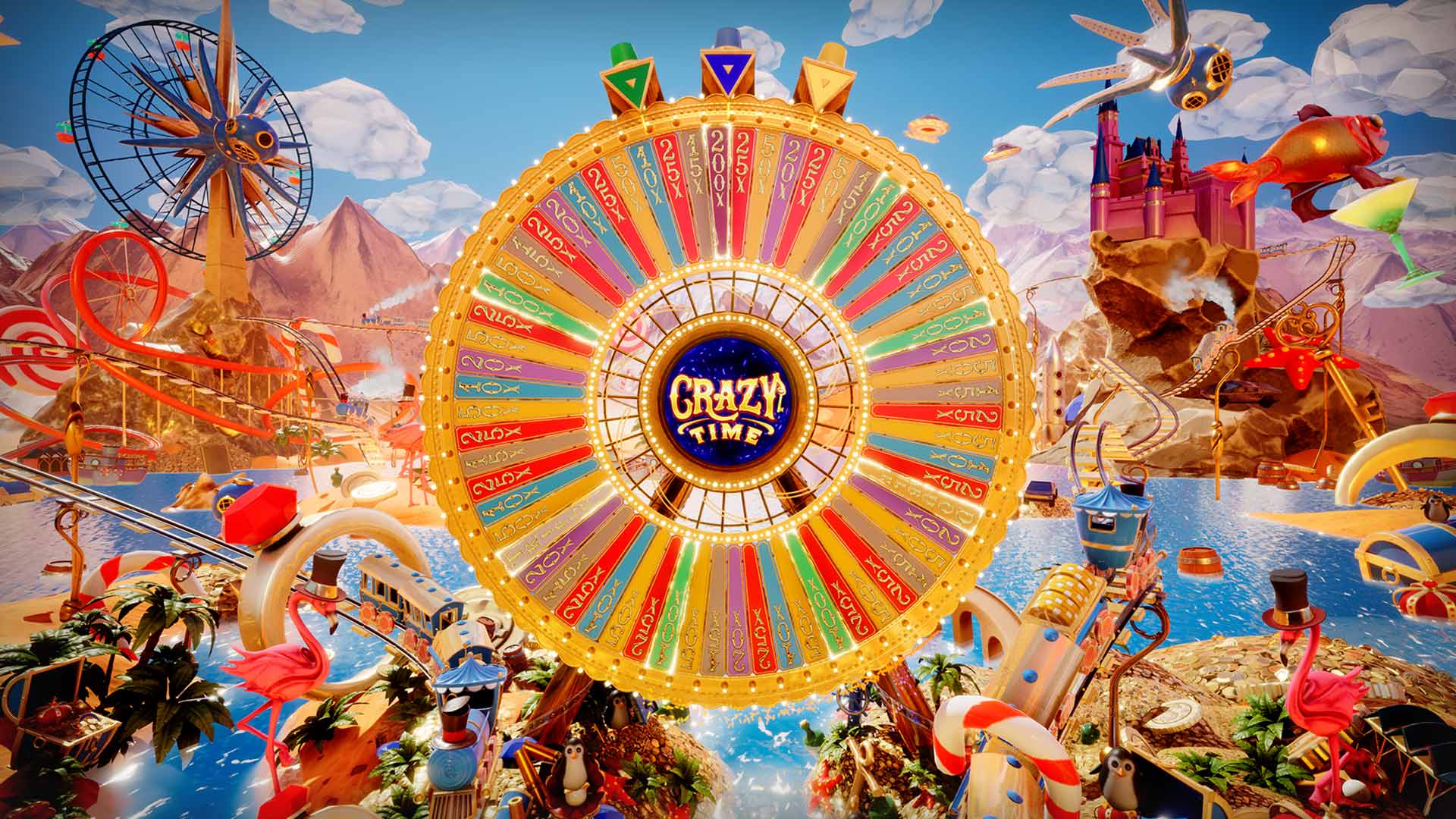 Introducing Crazy Time Live
Crazy Time live is a fun, vivacious game, brought to you with real dealers. This money wheel style game has reached new levels where you'll get to add multipliers up to 25,000x your stake from the top slot in each game, as well as four innovative bonus features.
Set in spacious, vibrant studio, Crazy Time Live includes its main money wheel, a top slot above the money wheel, and four bonus games including, Cash Hunt, Pachinko, Coin Flip and Crazy Time. And in two of the bonus games, you'll get to make a decision on what prize you win.
And if you want to play our Crazy Time game on the go, that's no problem as you can pick up and play your tablet, mobile device, as well as desktop.
How To Play Crazy Time Live
The top slot will spin together with the money wheel at the beginning of every Crazy Time game round. The top slot will trigger one random multiple and if it aligns with a bet spot, you'll receive that multiplier to boost your stake. This multiplier will either multiply a bet on a number or multiply the multipliers in a bonus game – it all depends on where the wheel lands.
Crazy Time Live Bonus Rounds:
The first bonus round is Cash Hunt, a shooting gallery with 108 random multipliers. The multipliers are hidden behind symbols and are shuffled before you position your aim. Just guess where the largest multiplier could be and select the target. The cannon will trigger and reveal the multiplier when the time is up. Each player selects their own target in this interactive bonus round which means that players will win different multipliers
The second bonus round is pretty simple, flip the coin and it will show you which multiplier you'll win. Before the coin is tossed, two multipliers will be generated, one for the red side and one for blue. It's up to you which side you choose.
The Pachinko bonus round showcases a large wall with pegs. The puck will drop through the pegs, and you'll win the multiplier where it lands. If you land a 'DOUBLE', all the multipliers at the bottom of the wall will be doubled, and the puck will be dropped again, until a multiplier is won, with the chance to win up to 10,000x.
And last but not least, open the red door to enter a brand new world in the Crazy Time game's main bonus. Pick your own flapper and let the game presenter trigger the massive dream catcher wheel. Once the wheel has stopped, you'll win the multiplier where your flapper has stopped. The wheel can be re-spun until the multipliers have reached the maximum 20,000x.
Other Live Casino Games
And if you're interested in our Live Casino games, then check out some of our players' favourites below.
Take on our Live Roulette tables with our real dealers. Enjoy the live gaming experience with a multi-camera immersive view, bringing players closer to the action. Pick which game view suits you best and utilise its rich features including autoplay, extensive statistics, chat and the possibility to save up to 15 favourite bets.
Lightning Roulette is an electrifying version of the world famous table game and has multipliers of up to 500x that can strike at any time.
Our Live Blackjack is the real deal. Perfect for every level of player, this live variation also allows you to play anywhere, anytime.
Andar Bahar is one of India's most played games and is now available at our casino. This easy to play card game is great for all players, all you have to do is pick which side will match with the joker card. Choose right and you win.
What game will you take a chance on?
Most Popular Games
More Casino Favourites
Online Casino | Live Casino | Online Slots | Roulette | Blackjack
Play Crazy Time Online
Crazy Time Live